Vesicular Stomatitis Virus
Description
---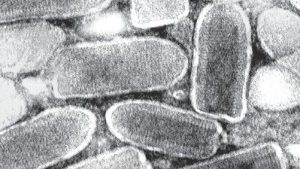 Type: (-) ssRNA enveloped rhabdovirus
Strain: Lab-adapted Indiana strain
Tropism: The vesicular stomatitis virus envelope glycoprotein (G) mediates binding to many cellular receptors (major receptor being LDLR and LDL-like receptors) giving the virus a very broad tropism (most mammalian cell types)
Gene Map: (Arrows indicate transgene insertion sites)
Proposed Uses
---
Standard titer stocks are ready to use in cell killing assays or for generation of new viral stocks. High-titer purified stocks are ready for immediate use in in vivo studies.
Protocol Tips
---
Propagation: Inoculate producer cells (e.g. Vero or BHK-21 cells) at an MOI of 0.005 for 1 hour. Collect culture supernatant when 80-90% of the cell monolayer is showing cytopathic effects (CPE, ~48 hours). Clarify the supernatant by low-speed centrifugation. Freeze and store aliquots at or below -70oC.
Viral Titration: Titer vesicular stomatitis virus by TCID50/mL endpoint dilution assay. Score CPE positive cells based on the presence of dead cells 3 days after inoculation. Alternatively, titer viruses by plaque assay and crystal violet staining. Vero or BHK-21 cells can be used for TCID50 titrations. Vero cells should not be used for titration of recombinant viruses that contain a human interferon (hIFN) transgene as Vero cells are sensitive to antiviral effects of type I IFN.
Regulatory Information
---
Biosafety Level: 2
US shipping license required? Yes. Please visit the USDA website to apply.