Imanis Presents at ASGCT
May 25, 2018, Imanis Life Sciences, Rochester MN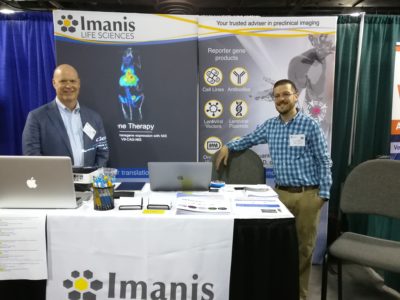 The American Society of Gene and Cell Therapy held their 21st annual meeting in Chicago from May 16-19. The meeting welcomed thousands of attendees from science, industry, and patient advocacy groups.
Imanis was represented with a booth, several poster presentations, and a place in the Tools and Technologies Forum. Through these forums, we demonstrated how noninvasive NIS imaging technology can accelerate therapeutic development in areas such as CAR T, iPSc, and more.
The conference had increased attendance and interest this year. This may be because the field of gene and cell therapy has seen incredible advances in a short period. Three clinical therapies have been approved in the past year:
Luxturna: gene therapy to treat children and adults with inhereited form of vision loss
Kymriah: CAR T-cell immunotherapy for kids and young adults with B cell acute lymphobastic leukemia
Yescarta: CAR T-cell therapy for adults with non-Hodgkin lymphoma
Imanis is proud to accelerate the many advancements being made in the area of gene and cell therapy. If you want to learn more about our noninvasive imaging technology, contact us at support@imanislife.com.