About Us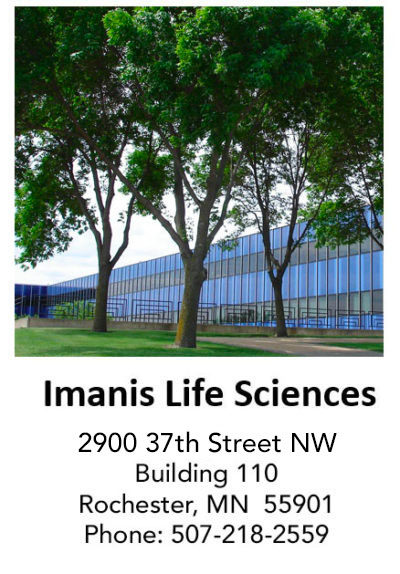 Our Mission
---
To promote widespread adoption of noninvasive in vivo imaging in preclinical and clinical research by providing best-in-class reporter gene products and services, and to accelerate development of viro-immunooncology drugs by providing recombinant oncolytic viruses for research.
Our Science
---
Proprietary NIS reporter gene imaging technology for unprecedented clarity in long-term longitudinal cell and virus tracking studies in small and large animal models.
The first and only commercially available repository of recombinant oncolytic viruses encoding reporter genes for research use.
The Imanis Team
---
Our scientific founders are leading experts in their academic fields of oncolytic virotherapy and noninvasive nuclear diagnostic applications. The Imanis team comprises of PhD, MSc and BSc level scientists who are passionate about providing the best in class reporter gene reagents and virology expertise to help our clients with their research in diverse fields. Our office, R&D service and manufacturing laboratories are located in the Former IBM Complex in Rochester Minnesota, home of the world renowned Mayo Clinic. We also have strong alliances and collaborations with key opinion leaders in the field and are committed to our mission to reduce animal use and refine techniques in animal research through the practice of the 3Rs. Check out our new series of interviews with collaborators on "A Vision for the Future" on Imanis' Youtube channel.
Our Scientific Cofounders
---
Imanis was founded in 2012 by scientific cofounders, Drs. Stephen Russell, Kah-Whye Peng and Michael O'Connor, Professors at Mayo Clinic Rochester, MN. Dr. Russell was recruited to Mayo Clinic from University of Cambridge, UK, in 1998 to be the Director of a new virus and gene therapy program at Mayo. As a clinician scientist, he has a dream to develop replication competent viruses for cancer therapy. Together with Dr. Kah-Whye Peng, they built a new program and later department (Molecular Medicine) known internationally for bench to clinical translation of oncolytic virotherapies. Dr. Russell wanted a reporter gene technology that enables long term monitoring of viruses in small and large animals and in human subjects. NIS is ideal as it is nonimmunogenic, species specific NIS exist allowing for easy transition from mouse to large animal models, is not harmful the normal physiology of the cell, and the radioisotopes are highly accessible without complex chemistry. As such the majority of oncolytic viruses generated in their labs contain a signature NIS reporter gene. Together with physicist Dr. Mike O'Connor, an expert in SPECT molecular imaging, they are strong advocates of incorporating molecular imaging in drug development and adoption of nuclear imaging in preclinical and clinical research to accelerate drug development. Today, NIS expressing measles virus and VSV are being tested in a number of Phase I and II clinical trials in patients with treatment refractory cancers.
Career Opportunities
---
Imanis is always open to inquiries from highly motivated individuals keen to join the team of virologists, imaging scientists and operations personnel. Please view our Careers or send inquiries to support@imanislife.com.