Antibodies
Imanis specializes in NIS antibodies and offers some of the best anti-NIS antibodies on the market today. We also offer an anti-VSV that works for a variety of applications.
Our Antibody Collection
---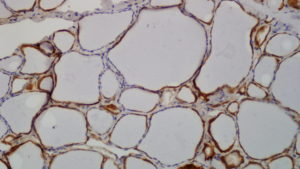 Our antibodies are licensed directly from the laboratories of premier NIS cell biologists, including Dr. Sissy Jhiang (Ohio State University), Dr. Sabine Costagliola (University of Brussels), and Dr. Nancy Carrasco (Yale University). All of our antibodies are tested extensively in-house for suitability for different applications. Together, our NIS antibodies work well for a wide range of applications, including immunoblot, immunohistochemistry, immunofluorescence, and flow cytometry. We also offer our own anti-VSV antibody, which works well for immunoblot, immunofluorescence, immunohistochemistry, ELISA, flow cytometry, and VSV antibody neutralization assays.
Recommended Imanis antibodies: by target and application
---
Target
Western
blotting
Immunofluorescence
Flow cytometry
Immunohisto
chemistry
Intact cells
Permeabilized
cells
Intact cells
Permeabilized
cells
Human NIS
SJ1

(REA004)

VJ1

(REA002)

VJ2 (REA003)

ETNL

(REA009)

KELE (REA010)1

VJ1

(REA002)

VJ2 (REA003)

ETNL

(REA009)

Mouse α-hNIS (REA011)

SJ1

(REA004)

KELE (REA010)2

Rhesus NIS
SJ1

(REA004)

X
SJ1

(REA004)

X
SJ1

(REA004)

X
Rat NIS
α-rat NIS

(REA008)

X
α-rat NIS

(REA008)

X
α-rat NIS

(REA008)

α-rat NIS

(REA008)

3
Mouse NIS
α-rat NIS

(REA008)

X
α-rat NIS

(REA008)

X
α-rat NIS

(REA008)

α-rat NIS

(REA008)

3