Assay Development & Validation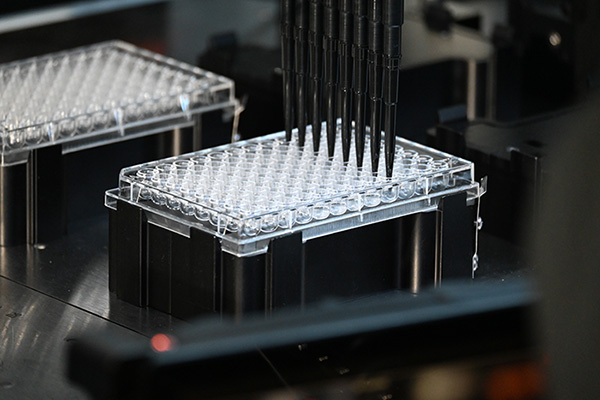 Imanis Life Sciences has an experienced team of scientists familiar with supporting novel therapeutic pipelines from discovery through preclinical and clinical stages. We have a wide range of validated systems and instrument platforms that can be used to create custom assays, as well as the experience and expertise needed to meet your assay validation requirements.

See below to learn more about the types of assays that we support.
Molecular-based Biodistribution

Imanis has a library of viral/vector gene targets and provides custom primer/probe design to support molecular testing for biodistribution of diverse gene and cell therapies. With instrumentation to support multiplex qPCR analyses, biodistribution assays are designed with appropriate internal positive control and endogenous controls to suit various phases of drug development, from discovery to pre-clinical through late-phase clinical testing.

Contact Us

Development of ligand-bind assays for pharmacokinetic, immunogenicity and custom biomarker testing

Imanis has the scientific expertise to cater to development of bioanalytical tests required in both non-clinical and clinical safety testing. With instrumentation and experience in custom assay development, Imanis can provide numerous testing needs in accordance with FDA guidance for bioanalytical method validation. Examples include ELISA development and validation for transgene expression and pharmacodynamic profiling of a virus-encoded oncolytic payloads.


Contact Us

Cell-based neutralizing antibody assays (nAb)

Imanis has extensive experience developing cell-based neutralizing antibody (nAb) assays. These assays more closely mimic the mechanism(s) in which antibodies and drug therapeutics may interact in vivo. Characterization of the presence of nAbs can greatly impact the safety and efficacy of biopharmaceutical products. Due to our expertise with viral therapies, we also offer custom pseudo virus reporter gene neutralization assays and related plaque-reduction neutralization titer (PRNT) assays.

Contact Us

Multiplexed (Luminex) Cytokine Profiling

Imanis has the assay development and validation expertise and equipment to support various species-specific cytokine multiplex assays to measure circulating cytokine levels within various sample matrices (in vitro and in vivo). This information is useful for evaluations of immunotoxicology and safety profiling throughout various stages of drug development. Using fluorescent and magnetic microsphere ligand binding assay formats, we can analyze a large number of analytes in parallel from small sample volumes with a larger dynamic assay range than what typical colorimetric immunoassay formats can provide. Imanis is also able to provide the immunology expertise to write interpretation and contributing scientific reports of assay results.

Contact Us

Immunophenotyping and Peripheral blood leukocyte analyses (PBLA)

Imanis offers numerous flow cytometric analytical techniques to support of immunology and hematology-based techniques, including custom peripheral blood immunophenotyping. This powerful analytical technique uses instrumentation that accommodates up to 13 fluorescent parameters in addition to visible light scattering to evaluate various cell populations in various whole matrices ranging from routine T/B/NK lymphocyte profiling to custom receptor occupancy assessments of biologic drugs binding to targeted receptors. Our scientific team is well versed in the unique challenges of validating flow cytometric assays to support various stages of drug development.

Contact Us

Enzyme-linked and fluorescent immunospot assays (i.e. ELISPOT) T cell assays

Imanis offers ELISPOT assays to evaluate cell-mediated immunity, including antigen-specific T cell monitoring. We have expertise evaluating cytokine or effector molecule secretion on single cells by ELISPOT analyses. Our services include processing of whole blood to peripheral blood mononuclear cells, assisting with stimulating peptide library design, and evaluating T-cell responses of interest via colorimetric or 4-color fluorescent immunospot analyses. Routine analyses are performed with IL-2 and IFN-gamma secretion to characterize Th1 responses following stimulation with antigen-specific peptide libraries.

Contact Us
Learn More