Imanis Presents at IOVC
April 18, 2018, Imanis Life Sciences, Rochester MN
Imanis was strongly represented at the 11th annual International Oncolytic Virus Conference in Oxford, England. The conference, which took place April 9-12, welcomed scientists from basic science, translational science, medicine, biotech, and big pharma. Imanis CEO Stephen Russell, M.D. Ph.D., founded the conference 11 years ago with John Bell, Ph.D. In the past decade, the field of oncolytic virotherapy has exploded. Len Seymour, Ph.D., professor of oncology at the University of Oxford, remarks:
"Innovative molecular science can now be exploited directly in the context of improved cancer treatments, and a raft of new licensed products are expected in the next few years. Rarely have scientists been able to practice their craft in such a high-profile and dynamic environment, and I, for one, feel lucky to be part of it."
Read more of Dr. Seymour's address to the attendees of the conference here.
Imanis is proud to accelerate the work of industry trailblazers, such as Vyriad, with our noninvasive imaging products and oncolytic viruses.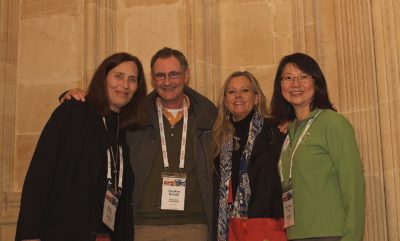 Imanis CEO Stephen Russell, M.D., Ph.D. (second from left) and COO Kah-Whye Peng, Ph.D. (far right)